Happy International Compost Awareness Week! This year's theme is Better Soil (which leads to a) Better Life (and a) Better Future (for all!)

See below for how you can help spread the word and go into the draw to win gardening gear.
Life on a finite planet has to be incredibly resource efficient. Life itself is finite, and without a way to recycle all things that exist on this planet, we'd have run out of nutrients and the building blocks of life a long time ago. Composting is nature's masterful recycling system, as it takes once living organic matter through a magical metamorphosis no less awe inspiring than a caterpillar larva becoming a butterfly; literally creating life from death.
And, if you look closely, you can witness this spectacle in every forest floor, atop every mountain range, beneath every ocean and within every desert... in fact, in every backyard and balcony across the planet.
When we throw organic matter in the bin we are disrupting this crucial cycle of life. Rather than returning food scraps to the earth to replenish the soil, they are locked up to fester in landfill (producing harmful methane and toxic leachate as if to prove the point). But we can actively participate in, and promote, the cycle of life from the comfort of our own homes –  through composting, worm farming or bokashi fermentation. Over 50% of household waste can be composted… from banana skins and potato peels, to toilet rolls, paper towels, napkins and even your (organic cotton) undies!

When folks define sustainable development, they often talk about sustaining the various domains of life so that future generations can co-exist on planet Earth. But why only sustain life when we can enhance it? Make it better?
Even though extremely small, the life, death, and decay of each preceding life form has been creating better conditions for future life forms. The decay process builds with added interest to the soil's bank account, and after countless centuries of creating conditions for higher and more complex forms of life, Man, the most complex of all life, was able to exist and be sustained. - The Secret Life of Compost by Malcolm Beck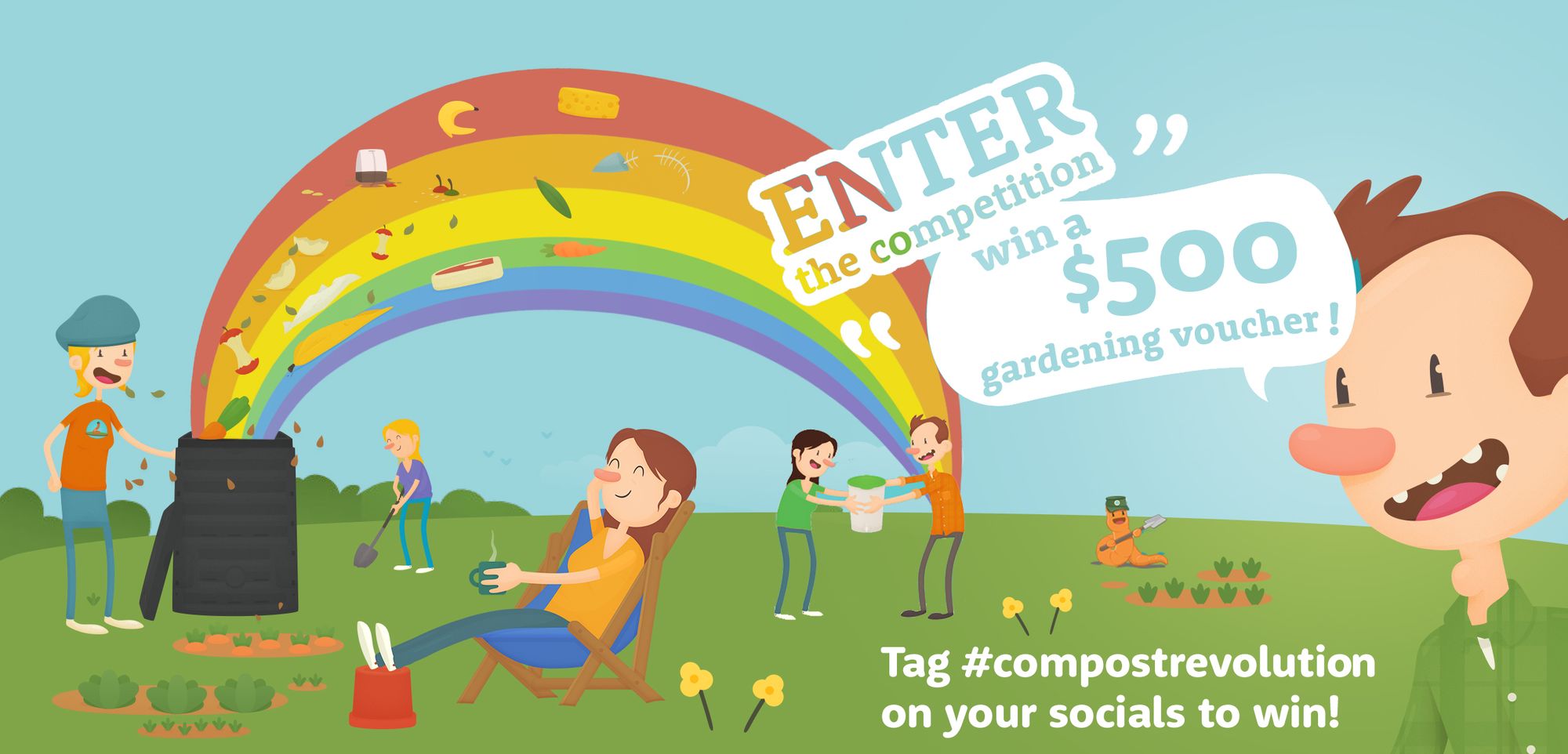 Kicking off this International Compost Awareness Week and running through May we want to show the world that Better Soil leads to a Better Life and a Better Future for all.
Share how composting has made your life better (in words, a poem, a picture, a video …  anything!) and tag us on socials using #compostrevolution to go in the running for a $500 voucher to improve your garden or upgrade your composting gear. Get creative (we'll choose the most creative/inspiring entry) and have fun…here's to a better life through composting!
Ohh, and when you share with your friends they will also be able to receive $10 off orders over $100 using the coupon code BETTER.
Enter the draw now ...

(remember to add your image/story & #compostrevolution to win!)
Share on Facebook
Share on Twitter
Tag us in a post on Instagram
Share on LinkedIN
Share on Pinterest
Hurry, competition ends May 30th!