We admit it. We're guilty. Composting is addictive - and it's a gateway to a greener, healthier, and yummier way of life.
This is what happened to herbalist and naturopath Kate and agriculturalist Neill who wrote to tell us just how addictive composting has been for them and how this has led to a whole other world of happy, sustainable living.
Q1. Tell us about your family and home life.
Neill and I live together in an estate on the outskirts of Albany, a regional city in the Great Southern of WA. We have a some very hardy (read: neglected!) native plants living in the front garden that Kate's mum very kindly planted for us while we were on holidays once. Our backyard is the perfect size for us, but being a new estate it is quite sandy.
We figured we should start making compost to try and lift the quality of the soil so we could eventually start producing food from the backyard.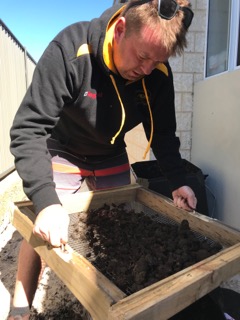 At the moment, it's mostly being used to cover in the holes our mischievous little puppy, Baxter, is digging. We're looking at getting some raised beds at some point in the future. Kate is a herbalist & naturopath, Neill works in the agricultural industry, so we're keen to use plants that are medicinal, like echinacea and calendula, and nutrient-rich, like nettle and parsley.
Q2. Do you share your bokashi bins or worm farms?
Not at this stage, but I've often thought about getting a bokashi bin for the pharmacy I work in. We seem to have quite a bit of unnecessary food waste. Neill's workplace has a coffee machine, so he started bringing home the coffee grinds to put in the compost bin. This sparked a conversation amongst colleagues and now several people are making use of the coffee waste.
Q3. What was your home's waste like before your first compost bin? How did you deal with your organic and non-organic waste?
We've always been fairly avid recyclers. We always make sure we put our waste in the right bin, but slowly over the last few years we have been more mindful about how much packaging we bring into the home.
Kate bought one of Sarah Wilson's cookbooks a few years ago and become much better at loving food and hating waste, but even with a 'waste-not-want-not' attitude, we still didn't put the effort into finding a solution for the waste we couldn't avoid, like meat bones.
We would keep some scraps for Neill's Aunty's chooks in return for gorgeously fresh eggs and we always had a container in the freezer collecting scraps that would be suitable for making a hearty stock.
We mostly shop at a 'pay and weigh' type shop, and if we have to go to a big supermarket, it's usually just for meat and veg.
The compost bin was really the catalyst for a big change.
It started us thinking about how we could really challenge ourselves to minimise our landfill as much as possible.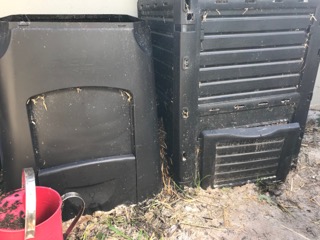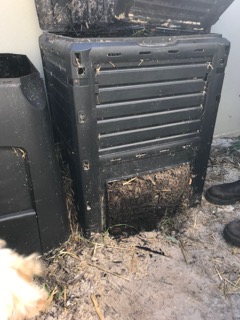 Q4. Between then and now (before and after you had bokashi bins/worm farms) have you noticed a difference in how often you have to take the bins out?
Absolutely, we now have a 'in-house' solution for almost everything:
Bokashi for all food scraps, including meat
Compost for coffee grinds, vacuum dust, grass clippings, newspaper
Homemade ensopet/bokashi for Baxter's poo (Neill cut the bottom out of a bucket, buried it so the lid is level with the ground, added some hay, bokashi powder and Baxter's daily droppings)
With all of this, sometimes we only have 1 bag to go in the landfill bin. Some weeks we aren't as good, but that's because we haven't bought enough numylk mix and had to revert back to UHT containers.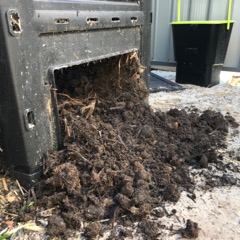 Q5. Have you had any surprises or issues with your bins? If so, how did you deal with them?
To start with, our bokashi stunk to high heaven, we obviously weren't putting in enough enzyme. I think we've got the mix right now. Neill says we haven't had any major issues with the bins, just learnings along the way, like discovering that too much newspaper doesn't break down easily and ends up in clumps.
We also had a bit of an issue when darling Baxter chewed his bed to pieces and lovingly scattered the green fluff all over the lawn, which ended up in the lawn mower, and consequently in the compost. Neill sifts through the compost regularly and pulls any pieces he finds out.
Q6. It looks like owning bokashi bins and worms farms has made you more aware of your home's overall consumption and waste cycles. Apart from changing your almond milk containers to glass, and recycling, do you participate in any other forms of eco-awareness?
We do the simple things, like use reusable coffee cups and Kate has implemented some paper-saving procedures at work.
At home, we use Agreena, beeswax wraps and silicone food covers.
We mostly use vinegar and bicarb with some essential oils for cleaning and low-tox cosmetics & body products to minimise our impact down the drain (and of course the health benefits of not smothering yourself in chemicals!)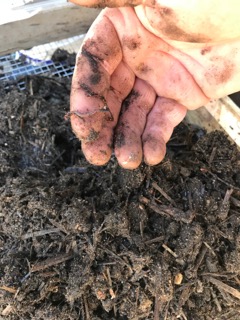 Q7. Do you have any words of advice for others who are considering buying a worm farm, bokashi bin or compost bin?
We watched a few YouTube videos before we committed to anything and then started slow. We ordered the compost bin from Compost Revolution and then once we got our heads around that we added in the bokashi, and then we added in a bag to collect the soft plastics to take to the RedCycle bin. We have really enjoyed (and will continue along) this learning journey.
I think the way to implement all of these things and stick to it is by adding in one thing at a time, making it a daily habit. Landfill just isn't the answer.
What a ride! From feeling sorry for a few neglected plants, to dabbling in a bokashi or two, to all of this powerful impact, from two people and their pupper.
We're warning you. Composting is good stuff.
Are you also addicted to sustainable living? Let us know on our Facebook page.
--
Like what you've read? Subscribe to our updates & we'll send you more blog posts and other news from the front lines of the revolution.